About us
Our church serves the communities of Benderloch, Bonawe, Barcaldine, North Connel, and surrounding areas, near Oban in Argyll, Scotland.
We are part of The Church of Scotland, which is Reformed & Presbyterian, similar to the United Reformed Church in England & the Lutheran Church on the Continent. Worship is held in St Modan's church in the village of Benderloch, Ardchattan Kirk on the shores of Loch Etive was sadly closed in January 2019.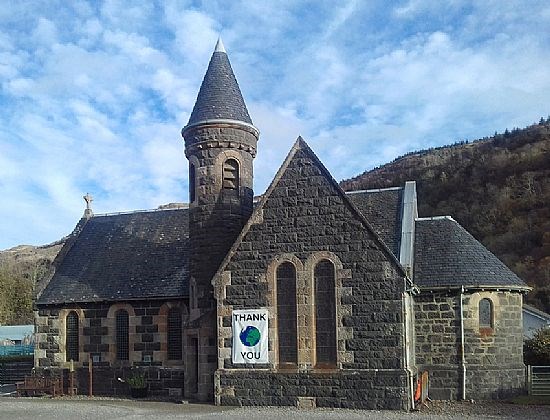 The Aim of the Church in the Community
In the Parish of Ardchattan the church provides a service every Sunday in St. Modan's Church, and the All Stars (Kids' Church) as required.
Worship is also provided in the Ford Spence sheltered housing complex, monthly, also in the Etive House Care Home (formerly known as the Lynn of Lorne) in Benderloch when required. Sadly we are unable to provide regular contact with our schools at present.
Weddings and baptisms are welcomed by arrangement with the minister and funerals can be arranged when necessary.
Groups associated with the church include Badminton in the Victory Hall, Scouts & Guides, 'Club nan Caraidean', an Arts and Crafts group and regular events like our holiday club for kids.
We hope you find our website a useful information resource. Please contact us if you need any more information.
Our Kirk Session. Following the union of our Session and Congregational Board to follow the Unitary Plan our Kirk Session now comprises of Ordained Elders and members of the previous Board. During Covid restrictions we held regular zoom meetings with our Minister, now we meet in the Campbell Memorial Hall again.
Our Church Building, has recently undergone some major structural repair work to replace some badly rusted lintels and limit long term water ingress.
St. Modan's Church, Benderloch can seat around 120. It was built as a mission church and was opened in 1905. The name St. Modan's was chosen as a reference to the ancient church building at Baile Mhaodain above Ardchattan Priory. Our architect was G. Woulfe Brennan, an Oban man. The grey & black granite blocks were brought from the Bonawe & Kentallen quarries respectively and the slates came from Ballachulish. The style is described as typically Norman, with its thick walls, deep-set round headed windows and conical roofed apse. The church is noted for its fine wooden ceiling and the memorial windows, which were installed in 1906 -(made by Meyer of Munich) - and 1914.The pulpit was transferred from a church in Perthshire, a gift from Lady Stewart of Garth.
The bell in our unusual bell tower was donated and hung by Arrol's Bridge & Roof Co. of Glasgow who had built the Connel Rail Bridge (and more famous Forth Railway bridge). The bell foundry mark reads 'John C. Wilson, Glasgow'. It is usually rung before service by youngsters of our Kids' Church.